HANOI – BAIDINH TOUR FULL DAY TRIP
The Biggest Pagoda in Asean
Bai Dinh Pagoda is famous for its great size and imposingness. The pagoda will be also set more record for the owner of the most Arhat Statues in ASEAN with 500 Arhat statues made of stone and stand higher than human's head. Located behind a range of limestone mountains in Gia Sinh Commune, Gia Vien District, Ninh Binh Province, the site with construction lying about in disorder and in the way, so it is difficult to imagine its beauty as well as its solemn to a pagoda in the true sense of the word as the tradition.
The most important emphasizing point of these great religion works are Tam The Temple and Phap Chu Temple. Two temples cover a total area of 1,000 square meters . The height of Phap Chu Temple is up to 22m and it contains five partitions . In the centre of this temple is a bronze Buddha Sykamuni statue with 10 meters high and 100 tons heavy which is certificated as the biggest statue in Vietnam. This statue is casted by the pure bronze bought from Russian, casted and installed by the famous artisans of casting bronze statue in Y Yen, Nam Dinh.
Another special feature in Bai Dinh pagoda is "Great Bell" with the weight of 36 tons was casted and located in Bell Tower. In addition, there is 70 -ton bronze drum on the floor of the Tower. What's more, coming to Bai Dinh pagoda, visitors have a chance to see the biggest Avalokitesvara Bodhisattva statue in Bodhissattva Temple. This statue looks so marvellous with thousand hands and eyes to present the protection and universal salvation for common people.
Without a doubt, Bai Dinh pagoda is masterpiece of both nature and men and it is the pride of Vietnamese people in terms of unique architecture, culture and historical value.
You can registration field trip here
07.30: Meet up with our driver and tour guide at your hotel then transfer through the countryside to Ninh Binh to visit the wonderful place that called Halong Bay on land. Arrive in Buddha Prayer place in Bai Dinh Pagoda, the biggest pagoda  in Vietnam with 500 La Han statues, biggest bronze Buddha statue in Vietnam 10 meter in height, 100 tons in weight.
13h00: After lunch in local restaurant, depart to visit Trang An tourist attraction, take boat cruise to visit cave complex: Sang Cave, Toi Cave, Ba Giot Cave, Nau Ruou in mystery and wildness, see scenery of mountain and river.
16h00: Back to Hanoi late in the afternoon. Service end.
Lunch in local restaurant.
Transfer by private vehicle with A/C.
All entrance fees and sightseeing as mentioned in the program.
English speaking guide
HANOI – HALONG BAY TOUR FULL DAY TRIP
The Unesco World Natural Heritage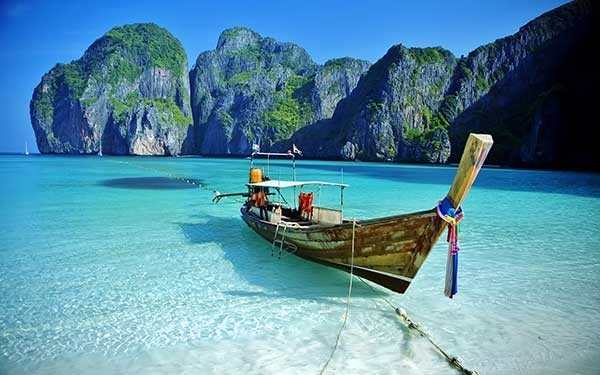 Ha Long Bay the northeastern province of Quang Ninh province includes some 1,600 islands and islets, forming a spectacular seascape of limestone pillars. Legend says Ha Long Bay was formed by a Mother Dragon and her children, sent by the Jade Emperor to protect the Viet from foreign invaders. The dragons flocked from Heaven, spitting out pearls which formed small islands and stopped the invaders and destroyed their ships. Mother Dragon and her children didn't return to Heaven after the battle, but settled in the bay; the Mother Dragon forming Ha Long Bay and the children, Bai Tu Long.
Exploring the islands of Ha Long Bay almost makes this incredible story seem true. Weaving through the almost 2000 islands while sitting atop jade-green water is surreal to say the least, spiritual at most.
Halong Bay sea forever remain a bright green color, flows quietly, absorbed with time. Halong beautiful four seasons. In the spring, the lush vegetation shoots mike on limestone mountains. In summer, cool and clear, the sun shimmering particles fall down to the sea. Autumn, in the moonlit night, moonlit mountains inclined ball floating like gold leaf to earth.
With such special values, at the 18th Session of UNESCO's Council of World Heritage held on 17 December 1994 in Thailand, Hạ Long Bay was officially placed on the list of the World Natural Heritage. In 2000, UNESCO recognized it as the World Heritage for the second time for its geographical and geomorphologic values. This confirms the global premier value of Hạ Long Bay.
You can registration field trip here
08h00: Our driver and tour guide pick you up at your hotel and leave Hanoi for Halong Bay with stop over at some beautiful places on the way, arriving around noon. Board a private traditional junk for a spectacular five-hour cruise of the bay with a fresh seafood lunch served on board. Enjoy the aquamarine waters and lovely limestone formations that have made Ha Long bay one of Southeast Asia's premier destinations as you visit a few of the most famous caves. Visit to Thien Cung and Dau Go Caves.
16h00: Back to Hanoi late in the afternoon.  Service end.
Meals as mentioned in the program.
All local boat rentals and cycling as mentioned in the program.
Transfer by private vehicle with A/C.
All entrance fees and sightseeing as mentioned in the program.
English speaking guides in Vietnam